Boots Measurement Chart
Fall Creek Suttlery
Civil War Uniforms
Boots Measurement Chart

Sutler of Civil War Uniforms
PO Box 92
Whitestown, In 46075
(765) 482-1861
(765) 482-1848 fax

Please be as accurate as possible, so we can get the best fit the first time.
Make sure you use a cloth measuring tape!
Fill out the form below completely and click "Send Measurements".

*** Tracings ***
You also need to mail us tracings of your feet. Here's the recommended procedure:
1.

While standing, place your foot on a piece of paper in front of you on a flat, solid surface.

2.

Have an assistant trace the outline of your foot.
Hold the pencil as straight up-and-down as possible while drawing and be sure that your pencil remains in constant contact with your foot during this process.
Mail your foot tracing to:

Fall Creek Suttlery
P.O. Box 92
Whitestown, IN 46075

Tracings cannot be faxed, e-mailed or otherwise sent other than regular mail. Electronic mail or fax can distort the image and / or reduce the size of the drawing, which makes them useless.

Be sure to give us the rest of the measurements below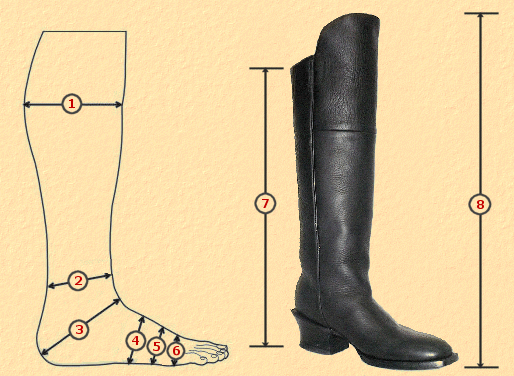 Please Note! You must measure the circumfrence of each measurement- All the way around the foot in each area.
(Not just the distance from the floor to the top of the foot, etc)
Be as Accurate as possible. We want to make them right the first time.
Custom Made Boots and Shoes are non returnable.
Please see our return policies.
Click below to browse our Website:

&nbsp&nbspLeather Goods ........
Cartridge Rifles -Henry
&nbspShoes and Boots

CW Carbines- Sharps,etc

&nbsp&nbspMuskets and Rifles
&nbsp&nbspEmbroidered Insignia
&nbsp&nbspBayonets
&nbsp&nbspBrass Insignia
&nbsp&nbspRevolvers and Pistols
&nbsp&nbspButtons
&nbsp &nbspNon Firing Weapons
&nbsp&nbspBuckles and Plates
&nbsp&nbspFirearms Accessories
&nbsp&nbspTinware and Canteens
&nbsp&nbspLady's Items and Books
&nbsp &nbspHaversack Stuffers
&nbsp&nbspBooks - Manuals
&nbsp&nbspClothing Patterns
&nbsp&nbspBooks - Reference
&nbsp Kit Guns
&nbsp&nbspMusical Instruments and Books
&nbsp&nbspToys for Kids
&nbsp&nbspConfederate Uniforms - QM Shop
&nbsp&nbspSwords and Sabers
&nbsp&nbspU.S. Uniforms - QM Shop
&nbsp&nbspMovie Credits
&nbsp&nbspWanted

&nbsp&nbspUniforms for Kids

&nbsp&nbspFavorite Links
&nbsp Shirts and Clothing
&nbsp&nbspCurrent Flyer
&nbsp&nbspHeadwear
&nbsp&nbsp
&nbsp&nbspTents
&nbsp&nbspEmail Us-Order Inquiries Only
Drums and Accessories
Testimonials
&nbsp&nbspKnapsacks, Blankets and Haversacks
Gift Certificates
..............Souvenirs......
&nbsp&nbspHome Page
Shopping cart features added by
Link Data Services
All info and pictures Copyright 2020 Fall Creek Corporation
Nothing can be copied without permission.