Civil War Revolvers and Pistols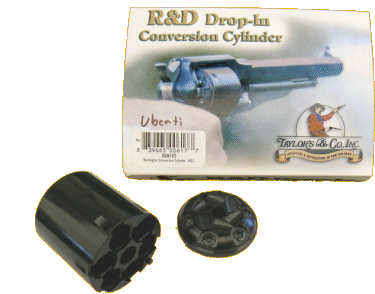 R & D Conversion Cylinder
Testimonial
Unsolicited Letter from a Satisfied Customer
Not sure how often you get letters like this from your customers but here goes....
Dear Fall Creek,
I wanted to personally write and thank you (and your staff) for your assistance with my order of the R & D cylinder conversion and spare cylinder.
Not only did it work as you said, but this is by far a more superior product than the (Other Brand) units. I knew immediately after unpacking and looking at the tooling on the back of the cylinder cap that I was going to have a working unit. Unlike the (Other Brand), the tooling to engage and rotate the cylinder on the R & D Conversion cylinder is identical to the tooling found on the original black powder cylinder that came with the 1858 Uberti pistol.
So the real test is on the firing range.
I had just purchased a new Uberti 1873 Cattleman with a 7 1/2 " barrel and also had the Uberti 1858 Remmington Army with the conversion in a side by side test at the range. I was able to hold a tighter pattern on the 1858 with the R & D conversion. Go figure.
So needless to say I am now very happy with the purchase !!!!!
Thank you, thank you, thank you for all your help. Your product solution, verses that of the (Other Brand), took this conversion issue I had with the (Other Brand) from a disaster to a working unit with the R & D.
I see other pistols on your web site I would like to purchase, so you will be receiving more orders from me in the near future. I will make recommendations to my friends out at the ranch I will be at in Colorado next week about your business too. I am sure once they see how cool this set up is and they get a chance to fire the pistol themselves they will want one of their own too.
At the range, I had several individuals asking to see this pistol configuration. They were duly impressed !!!
The one thing that should be pointed out is that the R & D Conversion Cylinder is truly a drop in unit, no modifications required. The R & D product worked out of the box just as you said and that is what won me over as an appreciating customer.
Thanks again,
M Roth
Florida

Click Here To Go Back to the Revolvers Page
Click below to browse our Website:

&nbsp&nbspLeather Goods ........
Cartridge Rifles -Henry
&nbspShoes and Boots

CW Carbines- Sharps,etc

&nbsp&nbspMuskets and Rifles
&nbsp&nbspEmbroidered Insignia
&nbsp&nbspBayonets
&nbsp&nbspBrass Insignia
&nbsp&nbspRevolvers and Pistols
&nbsp&nbspButtons
&nbsp &nbspNon Firing Weapons
&nbsp&nbspBuckles and Plates
&nbsp&nbspFirearms Accessories
&nbsp&nbspTinware and Canteens
&nbsp&nbspLady's Items and Books
&nbsp &nbspHaversack Stuffers
&nbsp&nbspBooks - Manuals
&nbsp&nbspClothing Patterns
&nbsp&nbspBooks - Reference
&nbsp
&nbsp&nbspMusical Instruments and Books
&nbsp&nbspToys for Kids
&nbsp&nbspConfederate Uniforms - QM Shop
&nbsp&nbspSwords and Sabers
&nbsp&nbspU.S. Uniforms - QM Shop
&nbsp&nbspMovie Credits
&nbsp&nbspWanted

&nbsp&nbspUniforms for Kids

&nbsp&nbspFavorite Links
&nbsp Shirts and Clothing
&nbsp&nbspCurrent Flyer
&nbsp&nbspHeadwear
&nbsp&nbsp
&nbsp&nbspTents
&nbsp&nbspEmail Us-Order Inquiries Only
Drums and Accessories
Testimonials
&nbsp&nbspKnapsacks, Blankets and Haversacks
Gift Certificates
..............Souvenirs......
&nbsp&nbspHome Page
Shopping cart features added by
Link Data Services
All info and pictures Copyright 2019 Fall Creek Corporation
Nothing can be copied without permission.
Fall Creek Suttlery
P.O. Box 92
Whitestown, In 46075
(765) 482-1861
(765) 482-1848 fax
Order Our 32 Page Illustrated Catalog for $3.00
Click Here