Fall Creek Suttlery
P.O. Box 92
Whitestown, In 46075
(765) 482-1861
(765) 482-1848 fax
Get Our 64 Page Full Color Civil War Reproductions Catalog for $6.00
Knives & Forks
Wanted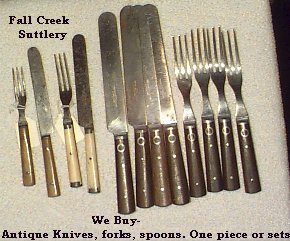 We want to buy Knives and Forks with wood or Bone handles (with or without pewter designs)

Forks should be three tines, but four tine forks are acceptable as long as the handle is wood or bone and shaped like those in the pictures.

We will buy individual pieces or whole sets.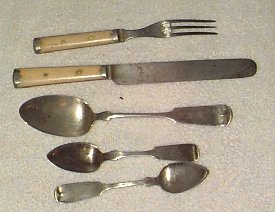 Spoons are also wanted. Tablespoons or Teaspoons. Silver, Silver Plate, Tin, or German Silver, as long as the handle portion is "fiddleback" shaped.

Please consider us. We will pay cash, or trade for merchandise.
Return to our "wanted" page
Return to our Home Page
E-Mail Me here