Civil War Officer Frock Coats
Union ArmyUniforms
Fall Creek Suttlery
P.O. Box 92
Whitestown, In 46075
(765) 482-1861
(765) 482-1848 fax

US Army
Junior Officer Frock Coats
and
Shell Jackets
We sell uniforms tailored primarily by the Quartermaster Shop from Port Huron, MI. The Garments we sell are the highest quality available today. Careful attention is paid to every detail to ensure museum quality and authenticity as well as wearability. Please adhere to our ordering instructions so that we may deliver proper fitting garments the first time.
Please fill in the measurement chart completely and carefully
Measurement Chart- Click Here
.
Don't guess. Give modern clothing sizes in the space provided. Usual shipping time on custom orders is 6-12 weeks. Common sizes and items off the rack can be shipped immediately. Please also note that larger or odd sizes could cost extra.
Buttons are included in the price of each garment. State buttons or special buttons may cost extra. Please refer to the "BUTTON NOTE" and "SIZE vs PRICE" notes at the bottom of this page. There is a 25% extra charge for extra quick delivery on custom orders.
Click for Button notes, Large Sizes, and Custom Ordering

---
US ARMY 1858-1865
Junior Officer Frock Coat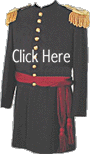 Junior Officers Frock Coat, for Lieutenants and Captains. Single breasted and has a nine button front.
The Full Dress version is shown at left (Epaulettes and Waist Sash are optional).
The Undress version shown at right.
Standard coat features our 21 ounce field service dark blue wool with black cotton lining. A deluxe grade of officer's cloth is available at extra cost. Collar and cuffs are made of the same cloth as the coat. Sleeves have 3 small buttons to close functional cuffs. US General Service buttons are supplied. Other special buttons are available at extra cost. Button total is 19. Priced without officer shoulder boards or dress epaulettes. Deluxe grade of wool for officers coats is available at additional charge..........................................................................$319.00

Accessories for all Frock Coats and Officer Shell Jackets;
Padded and Quilted front chest lining, add $65.00 (Please remember the multiples for size will be calculated at our end when processing the order)
Skirt pockets - included. Polished cotton lining, add $29.00 (Please remember the multiples for size will be calculated at our end when processing the order)
For branch of service buttons (Eagle w/I, A, C,) $1.50 each extra.
For correct muffin style US Staff Buttons $1.95 each extra

---

Junior Officer Shell Jacket ****
US JUNIOR OFFICER SHELLJACKET- Lieutenants and Captains. Single breasted and identical to the Junior Officer's Frockcoat except the jacket has no skirt. Standard is our 21 ounce field service wool with black cotton lining. Deluxe wool and lining are offered at extra cost. Nine button front, 3 button functional cuffs. Priced without officer shoulder boards........................$239.00

For US Officer's Letter buttons, add (Frock Coats-$28.50 , Shell Jacket-$22.50 - specify letter desired ( A,C or I).
For US Staff Officer's buttons, add (Frock Coats-$37.05, Shell Jackets-$29.25)

---
Button note: All of our coats and trousers come with buttons included. US - Eagle buttons, CS your choice of buttons specified. See our big catalog for more details. For shirts and accessories, please refer to our SHIRTS and ACCESSORIES page.
Buttons - Large Sizes- Custom Ordering
Button Note- All of our coats come complete with buttons. US coats come with appropriate eagle buttons. CS Coats come with your choice of the following - CSA or Block "I" "A" or "C"
All Oversize, Custom, and Special Orders MUST be paid in advance. No refund is allowed after the material is cut, Please refer to our ordering instructions for details, or give us a call.

Uniform Measurement Chart - Click Here
Want To Order Our 64 Page Full Color Catalog?
Click Here
Click below to browse our Website:

&nbsp&nbspLeather Goods ........
Cartridge Rifles -Henry
&nbspShoes and Boots

CW Carbines- Sharps,etc

&nbsp&nbspMuskets and Rifles
&nbsp&nbspEmbroidered Insignia
&nbsp&nbspBayonets
&nbsp&nbspBrass Insignia
&nbsp&nbspRevolvers and Pistols
&nbsp&nbspButtons
&nbsp &nbspNon Firing Weapons
&nbsp&nbspBuckles and Plates
&nbsp&nbspFirearms Accessories
&nbsp&nbspTinware and Canteens
&nbsp&nbspLady's Items and Books
&nbsp &nbspHaversack Stuffers
&nbsp&nbspBooks - Manuals
&nbsp&nbspClothing Patterns
&nbsp&nbspBooks - Reference
&nbsp Kit Guns
&nbsp&nbspMusical Instruments and Books
&nbsp&nbspToys for Kids
&nbsp&nbspConfederate Uniforms - QM Shop
&nbsp&nbspSwords and Sabers
&nbsp&nbspU.S. Uniforms - QM Shop
&nbsp&nbspMovie Credits
&nbsp&nbspWanted

&nbsp&nbspUniforms for Kids

&nbsp&nbspFavorite Links
&nbsp Shirts and Clothing
&nbsp&nbspCurrent Flyer
&nbsp&nbspHeadwear
&nbsp&nbsp
&nbsp&nbspTents
&nbsp&nbspEmail Us-Order Inquiries Only
Drums and Accessories
Testimonials
&nbsp&nbspKnapsacks, Blankets and Haversacks
Gift Certificates
..............Souvenirs......
&nbsp&nbspHome Page
Shopping cart features added by
Link Data Services
All info and pictures Copyright 2019 Fall Creek Corporation
Nothing can be copied without permission.
140