Civil War Books


Prices are volatile sometimes. Please call for current prices


---
---
This is Books Page Two.
Included Here Are-

Medical Reference
MasonicReference
Clothing Reference
Men of Color
Civil War Sex
General Reference
To go to Books Page One- Click Here
For Books on Civil War Music
See our Music Page- Click Here
---
.the Civil War Uniforms
of the United State Marine Corps
the Regulations of 1859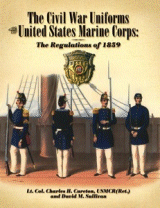 the Civil War Uniforms of the United State Marine Corps - the Regulations of 1859, Cureton & Sullivan, 296 pgs, Large Format Deluxe Hardbound. The uniforms and equipment worn by Marines during the Civil War are virtually unknown. This book is the first in-depth study of Marine uniforms and equipment ever undertaken, and it includes hundreds of contemporary studio portraits of officers and men wearing the items described and illustrated in the 1859 uniform regulations plus hundreds of color photographs of surviving material. There are complete chapters on the evolution of Marine insignia, swords, headdress, and all types of uniforms and clothing, to include the origin of the Marine officers' quatrefoil and the modern noncommissioned officers' sword. There is no other reference book of this magnitude on Marine dress and equipment of the period. 8 1/2" X 11 1/2", 475 Photos and Period Portraits................................................................................$79.95

---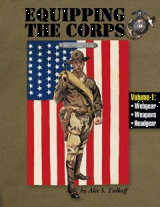 Sister to the above book- Not CW, but valuable companion to the USMC book above.

Equipping the Corps- Volume 1: 1892-1937 Weapons, Webgear and Headgear, by Alec Tulkoff.
The long awaited follow-up to the award winning "Grunt Gear"(now out of print) has taken seven years to research and it does not disappoint. Tulkoff has once again combed through countless archives and private collections to bring never before seen USMC pieces of equipment and photographs together in this first of a two volume set. Volume I covers, field gear, small arms (pistols, rifles and machineguns) and head- gear. The evolution of the Marine Corps bell crown cap is meticulously documented with both photographs and archival documentation. Arsenal and Quartermaster records thought to have been destroyed were located and new serial numbers attributed to the Marine Corps have been identified for Krag rifles (1,000) as well as M1903 rifles, M1912 Colt Automatics, BARs and even a handful of shotguns. Detailed information about quantities contracted are supplied in the field gear chapter in regards to cartridge belts and suspenders. The USMC Quartermaster Depot is examined and details about its manufacturing and capabilities are described. The research and writing of this book was originally done in order to compliment the "Book of the Year" award winning - "Grunt Gear: USMC Combat Infantry Equipment of World War II." Due to the manner in which the Marine Corps developed and manufactured uniforms and equipment, and the massive number of changes made to Uniform and Equipment Regulations it became evident that this book had to start with the 1892 Uniform Regulations. This brought up the issue of incorporating Dress Blues into this research as the first Marine Corps Combat Uniforms were actually blues. However, these blues eventually were phased out of combat and became the ever present Dress Blues as known today. Due to the large number of changes and massive amount of research covering the 1892, 1896, 1897, 1900, 1904, 1908, 1912, 1917, 1922, 1929 and 1937 Uniform Regulations, the book grew exponentially. In order to provide a reasonably concise book at an affordable price it was deemed necessary to break the book into two volumes. This volume covers Webgear, Weapons and Headgear. The information in this book was compiled from many resources including archival documents and photographs as well as many museums and countless private collections. While researching this book, Marine Corps Depot Records not previously found or forgotten about long ago were located as well as Annual Reports of the Commandant.
- 384 Pages, 861 Photos, Most in Color, Large Format Deluxe Binding 8 1/2" X 11 1/2"........................................$79.97
---
Civil War Medical Reference Books


---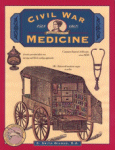 Civil War Medicine 1861-1865. C Kieth Wilbur MD, 119 pgs, soft bound. This book takes you on a detailed and fascinating tour through the medical history of this bloody and devastating war.
Hundreds of illustrations, combined with well-researched and engaging text, tell the tale of the challenges presented to physicians with each new battle and the often heroic ways those challenges were met.
......................................$14.95
---
Civil War Pharmacy, A History of Drugs, Drug Supply and Provision, and Therapeutics for the Union and Confederacy.
Michael A. Flannery. 347 pp. with Index. Includes photos.
The first comprehensive examination of pharmaceutical practice and drug provision during the Civil War. While numerous books have recounted the history of medicine in the Civil War, little has been said about the drugs that were used, the people who provided and prepared them, and how they were supplied. This is the first book to provide detailed discussion of the role of pharmacy. Among the topics covered in this essential volume are the duties of medical purveyors, the role of the hospital steward, and the nature and state of medical substances commonly used in the 1860s.

This richly detailed book shows why the South found drug provision especially difficult and describes the valiant efforts of Confederate sympathizers to run the Union blockade in order to smuggle in their precious cargoes. You'll also learn about the scurrilous privateers who were out to make a personal fortune at the expense of both the Union and the Confederacy. In addition, Civil War Pharmacy illuminates the systematic effort of pharmacists, physicians, and botanists to derive from Southern plants adequate substitutes for foreign substances that were difficult, if not impossible, to obtain in the Confederacy.
Available in Soft Cover Only................................................................Discontinued
---

Medicines for the Union Army- The United States Army Laboratories During the Civil War.
George Winston Smith, 198 pp. with Index.
Among white Federalist troops alone, there were 1,213,685 cases of malaria, 139,638 cases of typhoid fever, 67,762 cases of measles, 61,202 cases of pneumonia, 73,382 cases of syphilis, and 109,202 cases of gonorrhea between May 1, 1861 and June 30, 1866. (Statistics for Negro troops covered less than three years of the Civil War period.)
Preventative medicine at the time had little more to offer than quinine and a few disinfectants. There was no real understanding of the germ theory of disease.

This book shows that in the evolution of the army's Medical Department from incompetence to general efficiency during this time, and in the vastly improved organization and supply system designed by William A. Hammond, Jonathan Letterman, the medical purveyors, and others working under the Surgeon General, there was evidence of a great achievement. You will come to understand the medical purveying system of the time and its problems, and you will witness the birth, growth, and remarkable achievements of the Federal government's pharmaceutical laboratories at Astoria, New York, and Philadelphia, Pennsylvania.

Available in Soft Cover only

Soft Cover..................................................................Discontinued

---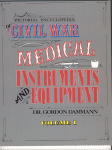 C W Medical Instruments and Equipment, 97 pgs. An informative book on medical instruments and equipment from the 1860's. 195 photos and illustrations......Out of Print

---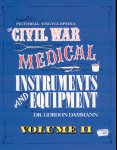 CW Medical Instruments and Equipment Vol II, As above with even more photos and illustrations of period medical, dental, and surgical equipment............................$9.95

---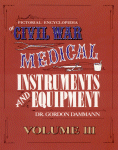 CW Medical Instruments and Equipment Vol III, As in the above two books, a great reference source for CW medical information. Tons of photos of actual equipment and medical personnel in action and at rest. Several vignettes are included of actual people, pictures, etc. 126 pgs.......$ 9.95
---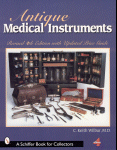 Antique Medical Instruments,144 pgs. Illustrations and descriptions of instruments from 1800 to the present.....................................................................................................$14.95

---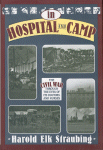 In Hospital and Camp; Hdbnd 166 pgs. The Civil war through the eyes of its' doctors and nurses. Series of short subjects, letters, etc. Recounting life through the eyes of medical personel...................................................................$21.95

---
Masonic Reference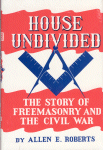 House Undivided, Freemasonry In the Civil War. Allen E. Roberts. 356 pgs loaded with stories and accounts of Masonic interest during the conflict. depicting the "human" side of the conflict with its portrayals of brotherly love in action. The quotations in the book tell what the men of 100 years ago actually said - not what someone thinks they might have said. While the many battles and incidents of the war are not analyzed, they are accurately depicted. Included in the volume are many eye-witness accounts of battles never before published. The story is written in chronological order so the reader may better understand the reasons for the statements and activities which took place in Masonic circles. An unusual amount of research has gone into this volume. The author has blended two histories--Freemasonry just before, during, and after the Civil War, with the history of the nation itself. Index and Bibliography. Author Roberts tells this story in chronological order so the reader may better understand the reasons for the statements and activities which took place in Masonic circles. Mr. Roberts is creator of such items as Masonic Leadership Training Films and other publications. Hard cover with dust jacket. It is a book that should certainly be included in any complete reference library..................$24.95

---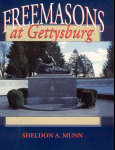 Freemasons at Gettysburg. Sheldon Munn. 92 pg. This book was written as a tribute to the Friend to Friend Masonic Memorial, Freemasons at Gettysburg documents the presence of over 50 Masons at the Battle of Gettysburg. Despite all their differences, Masons continued to practice their principles of brotherly love and good will on the battlefield, thus proving that the men who joined under the order would not, under any circumstances, sever their bonds of Masonic unity. Soft cover, fully illustrated...........$10.95

---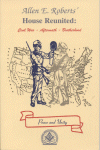 House Reunited. Allen E, Roberts. Chronicling Freemasonry and the aftermath of the conflict. 84 pgs..............................................................................................$12.95

---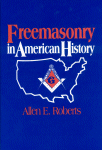 Freemasonry in American History. Allen E Roberts. 462 pgs hdbnd. Traces the history of Masonry in America. But it is not simply a history of Freemasonry in isolation. It attempts to set it against the general history of time. The earlier part is a chronicle of the introduction of Masonry into the various thirteen original colonies. Throughout the latter part, the names of Freemasons are fully capitalized. Allen Roberts is one of the best known Masonic Writers of our time. He has taken the history of Freemasonry and the history of the United States and woven them tightly together. This book is valuable to the Masonic student and will become more valuable in the years to come.......$29.95

---
Civil War Clothing Reference Books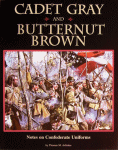 Cadet Gray and Butternut Brown-Notes on Confederate Uniforms, by Thomas M. Arliskas. Softcover, 104 pages.
Cadet Gray & Butternut Brown is not just a book full of Confederate uniforms, it also answers how and why the two largest Confederate armies (the Army of Northern Virginia and the Army of Tennessee) looked and dressed the way they did during four long years of war. A multitude of contemporary accounts from newspapers, letters and diaries are used in the text to describe the appearance and supply of the Confederate soldiers......................................$16.95


---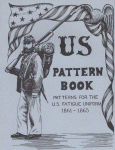 US Pattern Book. Patterns of a complete US uniform including greatcoat and hat...$12.95

---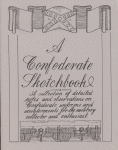 Confederate Sketchbook. Similar to above with patterns and descriptions of a complete Confederate Enlisted uniform with haversack, etc.......................................$15.95

---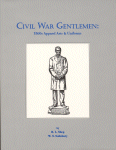 Civil War Gentlemen: 1860's Apparel Arts & Uniforms. R.L. Shep. 259 pgs. Contains the complete text of Salisbury's System of Actual Measurement and Drafting for all Styles of coats upon Geometrical Principals by W.S. Salisbury 1865/66. Plus original material, illustrations, and excerpts from 1860's primary source material..........$24.95

---
Civil War General Reference Books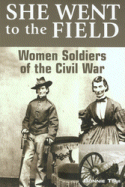 She Went to the Field: Women Soldiers of the Civil War, Bonnie Tsui, 160 pgs, Soft cover.
Women Soldiers of the Civil War profiles several substantiated cases of female soldiers during the American Civil War, including Sarah Rosetta Wakeman (aka Private Lyons Wakeman, Union); Sarah Emma Edmonds (aka Private Frank Thompson, Union); Loreta Janeta Velazquez (aka Lieutenant Harry T. Buford, Confederate); and Jennie Hodgers (aka Private Albert D. J. Cashier, Union). Also featured are those women who may not have posed as male soldiers but who nonetheless pushed gender boundaries to act boldly in related military capacities, as spies, nurses, and vivandieres ("daughters of the regiment") who bore the flag in battle, rallied troops, and cared for the wounded.................$14.95

---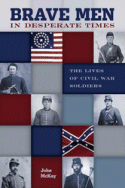 Brave Men in Desperate Times, The Lives of Civil War Soldiers, John Mckay, 288 pgs, Soft cover.
What was it like to be a soldier in combat during the Civil War? What was it like to be a poorly trained, ill-equipped, and un-uniformed militiaman in a state "army" trying to, literally, defend your own home? What was it like to be stuffed into a dank, dark, sweltering, three-foot-diameter iron tube, turning a crank to escape an enemy howling after you, all while thirty feet below the surface of Charleston Harbor? What was it like to be a Creek infantryman, slowly riding in to a Union post in the wilds of frontier Oklahoma, carrying the threadbare rags of what had once been your proud battle flag, knowing you were among the very last of the Confederates to surrender? What was it like to be a Prussian-born corporal, barely able to speak English, caught in the midst of a vicious street battle in Fredericksburg? This new book tells the untold stories of the men on the front lines of battle during the Civil War....$12.95

---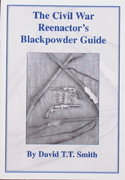 Civil War Reenactor's Black Powder Guide. Soft cover 55 pages complete with pictures. Covers all aspects of CW period military weapons- Revolvers, Muskets, carbines, etc. Loading, Firing (live and blanks), Cleaning, and storage are also covered. This is a long awaited book for the hobby and new reenactors. If you need info regarding the care and feeding of your weapon, this is it!....................$12.95




---
Black Valor: Buffalo Soldiers and the Medal of Honor, By Frank Schubert. 184 Pgs Hard Bound. Vivid description of frontier warfare and the special challenges black troops had to face. Believed to have been named Buffalo Soldiers by Indians who had seen a similarity between the coarse hair and dark skin of the soldiers and the coats of the Buffalo (from the book). 23 of these men won the Nations highest award for personal bravery, The medal of honor. Their stories are told in this collected biography..................................$26.95
---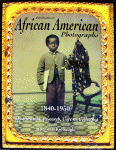 Introduction to African American Photographs 1840-1950, by Ross Kelbaugh . Soft cover, 120 pgs. This book is geared toward the identification, research, care, and collecting of photgraphs relating to African Americans. It is the first to focus on ways to determine the age of these photos and how to research the individuals recorded in them. The author offers advice on their proper care as well as valuable tips for collecting them. Heavily illustrated, many of the photos are published here for the first time. An extensive catalogue of helpful resources for researchers is included..................$14.95




---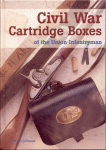 Civil War Cartridge Boxes of the Union Infantryman, Paul Johnson. 351 pages. Hardbound. Important reference on cartridge boxes as used during the Civil War period. Covering all aspects and patterns of US boxes from pre-war, 1860 through 1864 patterns, as well as oddities. Included is a summary of production cartridge boxes, shoulder belts and plates 1857-1864. Loaded with pictures. A "must have" for the collector or enthusiast interested in accuracy...........................$45.00

---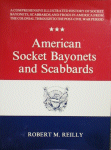 American Socket Bayonets and Scabbards, Robert M Reilly. 209 pgs hardbound. Comprehensive illustrated history of socket bayonets, scabbards, and frogs in America from the Colonial through to the Post Civil War period. Great reference for any American bayonet.........................................................................................................$45.00

---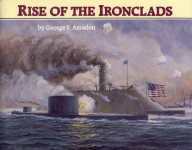 Rise Of The Ironclads, Highlighting the Iron Warships. 80pgs. Includes a chapter on the ships- USS Merrimack, USS Monitor, Ironclads against wooden ships, Ironclad against Ironclad. Chronicling these ships from design to the end. Tons of pictures, diagrams and drawings........................... $12.95

---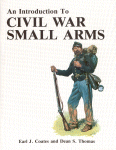 Civil War Small Arms, All about weapons used during the conflict. 96 pages softbound. Covers all weapons including hand guns, muskets, rifles, carbines, etc. Full of drawings, diagrams, as well as actual photographs of each gun, usually accompanied by an original photo of a soldier or person holding the weapons as well as photos of the original ammunition for each weapon. Great resource material, and enjoyable to read. By Dean Thomas...$7.95

---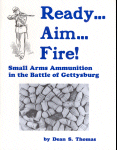 Ready, Aim, Fire, Small Arms Ammunition in the battle of Gettysburg. All about Bullets and small arms projectiles used during this battle. Lots of photos and drawings of the original ammo and specifications. Includes information regarding the actual regiments that were at Gettysburg, and the arms that they were equipped with at the time including caliber.$7.95

---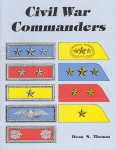 CW Commanders, By Dean Thomas. Photographic image and capsule biographies of 138 Union and Confederate officers. Many illustrations and photographs of officers, insignia, etc. Great for research on that difficult officers insignia. Soft bound, 72 pgs.....................$7.95

---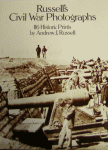 Russell's Civil War Photographs, 116 Photographs from the famed C.W. photographer. ppr back. Large size 12" X 9. 1/2". Each print has the original plate number and description. Town scenes, railroad and battle sites included.Great for reference and very interesting histopric photographs.................$14.95

---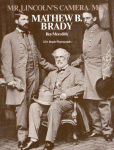 Mr. Lincoln's Camera Man; Matthew Brady. Over 300 Brady photos reproduced from the original negatives. 368 pgs................................................. $27.95

---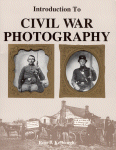 Introduction To Civil War Photography, By Ross Kelbaugh. 48 pgs. Illustrated guide to photography of the era. Completely illustrated. Step by step explanation of each process...................$9.95

---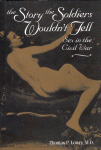 Sex In The Civil War, The Story the Soldiers Wouldn't Tell. 209 pgs, Stories, personal accounts, poems, pictures from the 1860's of this taboo subject. Most of the info will surprise you. People today do not realize that we did not invent the ideas, fantasies, and acts regarding sex in the modern world. People were doing this since time began! This reference work covers a small portion of the material that was around during the 1860's, shocking as it may be. Nothing nasty or obscene, but still surprising. (Shipped in a plain brown wrapper if you prefer).................$21.95

---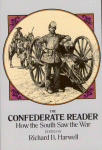 the Confederate Reader, or How the South Saw The War, Edited by Richard B. Harwell. Reprint of The Confederate Reader (1957) 389 pgs...............................$16.95

---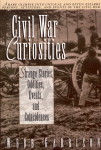 Civil War Curiosities, Strange stories, oddities, events, and coincidences. 281 pgs.....$12.99

---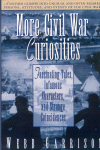 More Civil War Curiosities, Fascinating tales, infamous characters, & more strange stories...............................................$12.99

---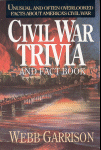 Civil War Trivia (and fact book) 287 pgs softbnd. Done in Q&A format. Interesting facts...............................................$12.99

---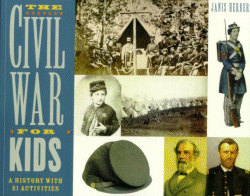 The Civil War for Kids. A History with 21 Activities. Great book for the youngsters. 145 pgs. 14 chapters. Each with text and documented by original and recent photos. Each chapter has an activity for the kids to do or something to create, such as A Coffee Can Drum, Berry Ink, Signaling, Housewife Sewing Kit, and more. Easy to read and will help them learn, with activities to keep their attention. Complete with Glossary, and resources including related websites...................$14.95

---
For Books on Civil War Music
See our Music Page- Click Here
---
---
---

If you know of a reference book not listed here that
should be....... Please let us know.
Thanks!
Click here to return to top of page

Click below to browse our Website:

&nbsp&nbsp

Leather Goods ........

Cartridge Rifles

-Henry

&nbsp

Shoes and Boots

CW Carbines- Sharps,etc

&nbsp&nbsp

Muskets and Rifles

&nbsp&nbsp

Embroidered Insignia

&nbsp&nbsp

Bayonets

&nbsp&nbsp

Brass Insignia

&nbsp&nbsp

Revolvers and Pistols

&nbsp&nbsp

Buttons

&nbsp &nbsp

Non Firing Weapons

&nbsp&nbsp

Buckles and Plates

&nbsp&nbsp

Firearms Accessories

&nbsp&nbsp

Tinware and Canteens

&nbsp

&nbsp

Haversack Stuffers

&nbsp&nbsp

Books - Manuals

&nbsp&nbsp

Clothing Patterns

&nbsp

&nbsp

Books - Reference

&nbsp

Kit Guns

&nbsp&nbsp

Toys for Kids

&nbsp&nbsp

Confederate Uniforms

&nbsp&nbsp

Swords and Sabers

&nbsp&nbsp

U.S. Uniforms

&nbsp&nbsp

Movie Credits

&nbsp&nbsp

Wanted

&nbsp&nbsp

Favorite Links

&nbsp

Shirts and Clothing

&nbsp&nbsp

Headwear

&nbsp

&nbsp

&nbsp&nbsp

Tents

&nbsp&nbsp

Email Us-Order Inquiries Only

Gift Certificates

&nbsp&nbsp

Home Page
All info and pictures Copyright 2023 Fall Creek Corporation
Nothing can be copied without permission.
765-482-1861