Civil War Revolvers and Pistols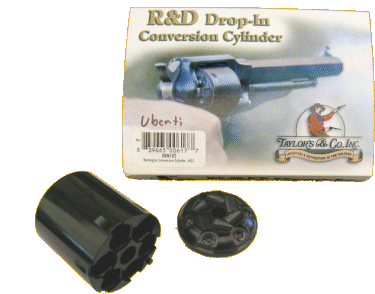 R & D Conversion Cylinder
Testimonial
Unsolicited Letter from a Satisfied Customer
Not sure how often you get letters like this from your customers but here goes....
Dear Fall Creek,
I wanted to personally write and thank you (and your staff) for your assistance with my order of the R & D cylinder conversion and spare cylinder.
Not only did it work as you said, but this is by far a more superior product than the (Other Brand) units. I knew immediately after unpacking and looking at the tooling on the back of the cylinder cap that I was going to have a working unit. Unlike the (Other Brand), the tooling to engage and rotate the cylinder on the R & D Conversion cylinder is identical to the tooling found on the original black powder cylinder that came with the 1858 Uberti pistol.
So the real test is on the firing range.
I had just purchased a new Uberti 1873 Cattleman with a 7 1/2 " barrel and also had the Uberti 1858 Remmington Army with the conversion in a side by side test at the range. I was able to hold a tighter pattern on the 1858 with the R & D conversion. Go figure.
So needless to say I am now very happy with the purchase !!!!!
Thank you, thank you, thank you for all your help. Your product solution, verses that of the (Other Brand), took this conversion issue I had with the (Other Brand) from a disaster to a working unit with the R & D.
I see other pistols on your web site I would like to purchase, so you will be receiving more orders from me in the near future. I will make recommendations to my friends out at the ranch I will be at in Colorado next week about your business too. I am sure once they see how cool this set up is and they get a chance to fire the pistol themselves they will want one of their own too.
At the range, I had several individuals asking to see this pistol configuration. They were duly impressed !!!
The one thing that should be pointed out is that the R & D Conversion Cylinder is truly a drop in unit, no modifications required. The R & D product worked out of the box just as you said and that is what won me over as an appreciating customer.
Thanks again,
M Roth
Florida

Click Here To Go Back to the Revolvers Page
Click below to browse our Website:

&nbsp&nbsp

Leather Goods ........

Cartridge Rifles

-Henry

&nbsp

Shoes and Boots

CW Carbines- Sharps,etc

&nbsp&nbsp

Muskets and Rifles

&nbsp&nbsp

Embroidered Insignia

&nbsp&nbsp

Bayonets

&nbsp&nbsp

Brass Insignia

&nbsp&nbsp

Revolvers and Pistols

&nbsp&nbsp

Buttons

&nbsp &nbsp

Non Firing Weapons

&nbsp&nbsp

Buckles and Plates

&nbsp&nbsp

Firearms Accessories

&nbsp&nbsp

Tinware and Canteens

&nbsp

&nbsp

Haversack Stuffers

&nbsp&nbsp

Books - Manuals

&nbsp&nbsp

Clothing Patterns

&nbsp

&nbsp

Books - Reference

&nbsp

Kit Guns

&nbsp&nbsp

Toys for Kids

&nbsp&nbsp

Confederate Uniforms

&nbsp&nbsp

Swords and Sabers

&nbsp&nbsp

U.S. Uniforms

&nbsp&nbsp

Movie Credits

&nbsp&nbsp

Wanted

&nbsp&nbsp

Favorite Links

&nbsp

Shirts and Clothing

&nbsp&nbsp

Headwear

&nbsp

&nbsp

&nbsp&nbsp

Tents

&nbsp&nbsp

Email Us-Order Inquiries Only

Gift Certificates

&nbsp&nbsp

Home Page
All info and pictures Copyright 2023 Fall Creek Corporation
Nothing can be copied without permission.
765-482-1861
Fall Creek Suttlery
P.O. Box 92
Whitestown, In 46075
(765) 482-1861
(765) 482-1848 fax