Fall Creek Suttlery

Sutler of Civil War Uniforms and Equipment
PO Box 92
Whitestown, In 46075
(765) 482-1861
Non Firing
Civil War Revolvers


---
Non Firing Revolvers
Most styles are back in stock and ready to ship.

---
A beautiful addition to your collection, these historic collector Replica Non-Firing Model Guns and artifacts bring back the flavor of the past. These handsome collector model guns are made of antique finished zinc cast metal and polished European hardwood. The screw heads are molded into the metal and cannot be removed, and models cannot be disassembled. These collector models are completely safe and cannot be made to fire real ammunition. Your collector replica model guns weigh and feel like the expensive originals and come assembled and ready for display in your home or office.
---
Quantity prices are available for all of these weapons
Check out our Oak Revolver Stands at the bottom of this page
---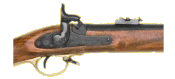 1853 Enfield Three Band Musket, Non Firing model.
This British pattern 1853 rifled musket became the Confederate standard rifle of the Civil War. The Enfield was reliable, quick to load, accurate and a vast improvement over smoothbore Flintlock Muskets. Features a wood stock and metal barrel and lock. Wooden ramrod is non functional. Bayonet cannot be used on this model. 55" Overall........................$239.95
---

1860 Enfield Civil War Musketoon, Non Firing Model.
Its percussion lock is stamped, London Armoury & with the royal crown. This 2 band musketoon features 24" blued barrel, wood stock with metal ramrod and lanyards for sling. Features a wood stock and metal barrel and lock.
Will not accept a bayonet. 40" Overall..............................................................................................$199.95
---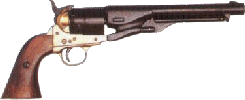 M1860 Army Revolver, Blue. Used by both Union and Confederate forces..44 caliber, full size model. The loading lever, hammer, trigger and cylinder action work like the rare, expensive originals. Manufactured with real wood grips, in deluxe blued barrel and simulated brass frame finishes. 13.5" long overall. 2 lbs 8oz. Looks and feels like the real thing...........................................$94.95
Non Firing Revolver
---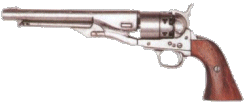 M1860 Army Revolver, Grey. Used by both Union and Confederate forces..44 Caliber. Full size. The loading lever, hammer, trigger and cylinder action work like the rare, expensive originals. Manufactured with real wood grips, in gun metal gray finish. 13.5" long overall. 2 lbs 8oz. Looks and feels like the real thing............................$94.95
Non Firing Revolver
---

M1851 Civil War Navy Revolver. Navy Silver Finish with Simulated Ivory Grips. Revolvers like this were used extensively throughout the War Between the States, by both Union and Confederate troops. The loading lever, hammer, trigger and cylinder action work like the originals. Fully engraved. Simulated Ivory grips have a checkered finish. Its 7.5" octagonal barrel and strong frame made for a reliable, handsome sidearm. 13.5" long overall. 2 lbs 8oz. Looks and feels like the real thing..................................$119.95
Non Firing Revolver
---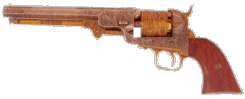 M1851 Civil War Navy Revolver. As above, only with Silver and Gold Finish. Fully engraved metal with real wood grips. The loading lever, hammer, trigger and cylinder action work like the originals. Its 7.5" octagonal barrel and strong frame made for a reliable, handsome sidearm. 13.5" long overall. 2 lbs 8oz. Looks and feels like the real thing.............................................$119.95
Non Firing Revolver
---


Civil War Confederate Revolver, Antique gray finish. The Southern percussion six-shot (Cap and ball) revolver, circa 1860, was manufactured by Griswold & Gunnison near Macon, Georgia. .44 caliber and full size. The loading lever, hammer, trigger and cylinder action work like the originals. Its 7.5" octagonal barrel and strong frame made for a reliable, handsome sidearm. 13.5" long overall. 2 lbs 2oz. Looks and feels like the real thing.............................$94.95
Non Firing Revolver
---

Civil War Confederate Revolver, deluxe blued barrel and simulated brass frame finishes. The Southern percussion six-shot (Cap and ball) revolver, circa 1860, was manufactured by Griswold & Gunnison near Macon, Georgia. .44 caliber, full size. The loading lever, hammer, trigger and cylinder action work like the originals. Its 7.5" octagonal barrel and strong frame made for a reliable, handsome sidearm. 13.5" long overall. 2 lbs 2oz.
Looks and feels like the real thing..........$94.95
Non Firing Revolver
---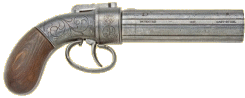 Pepperbox, Non Firing
Originally developed in London in the mid 1800's, this six shot percussion pistol was not technically a revolver since the multiple barrels and receiver rotated together. This replica gun has a mechanically revolving barrel with working action and wood grips. Though this replica pistol saw limited action in the Civil War, it was likely more commonly used in saloons of the frontier underneath a poker table.................................$94.95
---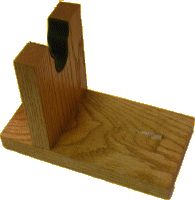 Revolver Stand, Made from Oak. Great for displaying your favorite Civil War or Cowboy revolver. Holds your revolver horizontal for or vertically for display. Fits any size weapon. Very nice addition to your collection............ $19.95
---
Historic Civil War Non Firing Non Functional Revolvers Muskets and Carbines Revolver Musket Carbine replica reproductions

---
Quantity prices are available for all of these weapons
Click below to browse our Website:

&nbsp&nbsp

Leather Goods ........

Cartridge Rifles

-Henry

&nbsp

Shoes and Boots

CW Carbines- Sharps,etc

&nbsp&nbsp

Muskets and Rifles

&nbsp&nbsp

Embroidered Insignia

&nbsp&nbsp

Bayonets

&nbsp&nbsp

Brass Insignia

&nbsp&nbsp

Revolvers and Pistols

&nbsp&nbsp

Buttons

&nbsp &nbsp

Non Firing Weapons

&nbsp&nbsp

Buckles and Plates

&nbsp&nbsp

Firearms Accessories

&nbsp&nbsp

Tinware and Canteens

&nbsp

&nbsp

Haversack Stuffers

&nbsp&nbsp

Books - Manuals

&nbsp&nbsp

Clothing Patterns

&nbsp

&nbsp

Books - Reference

&nbsp

Kit Guns

&nbsp&nbsp

Toys for Kids

&nbsp&nbsp

Swords and Sabers

&nbsp&nbsp

Movie Credits

&nbsp&nbsp

Wanted

&nbsp&nbsp

Favorite Links

&nbsp

Shirts and Clothing

&nbsp&nbsp

Headwear

&nbsp

&nbsp

&nbsp&nbsp

Tents

&nbsp&nbsp

Email Us-Order Inquiries Only

Gift Certificates

&nbsp&nbsp

Home Page
All info and pictures Copyright 2023 Fall Creek Corporation
Nothing can be copied without permission.
765-482-1861
Historic Civil War Non Firing Non Functional Revolvers Muskets and Carbines Revolver Musket Carbine replica reproductions