Fall Creek Suttlery
Civil War Sutler
Retail Store
917 E Walnut ST, Lebanon, In 46052
(765) 482-1861 - (765) 482-1848 fax
Our Real Address, not the sutler tent.

Our store is located in Lebanon, Indiana - 8 miles north of Whitestown. (20 Miles Northwest of Indianapolis)
On I-65, take exit 138 and go North on Indianapolis Ave approx 1 1/2 miles. Look for the large Smokestack and Walnut St. Turn left on Walnut St. We are on the south side of the road.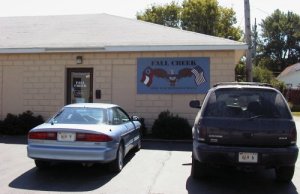 PLEASE CALL AHEAD OF TIME BEFORE YOU TRAVEL A LONG WAY-
ONLY TO FIND NO ONE HERE.

Our PO Box is in Whitestown, but we could not fit all of our goods into the Post Office lobby.
Please do not go to Whitestown, hoping to find Fall Creek Suttlery.
The store is in Lebanon, 8 miles north.
(Why do I say this over and over? A few confused people have shown up in Whitestown and cannot find us)
If you are planning on visiting us, Please call for directions, or just to let us know you are coming. Sometimes our merchandise is at a reenactment and not all items are available in the store.
Our phone lines are always available, please give us a call-
(765) 482-1861...... (765) 482-1848 fax
10:00-4:00 Monday - Friday........................ Saturday and after hours by appointment
Thanks for your support.......We Appreciate Your Business!!