Civil War Sutler Merchant and Marquee Tents
Fall Creek Suttlery

Sutler of Civil War Uniforms and Equipment
PO Box 92
Whitestown, In 46075
(765) 482-1861
(765) 482-1848 fax
FCSutler.com
Civil War Sutler Marquee Tents
Fall Creek has been making our own tents since 1989
Pictured below is one of our 18' X 24' Sutler tents
In a typical configuration.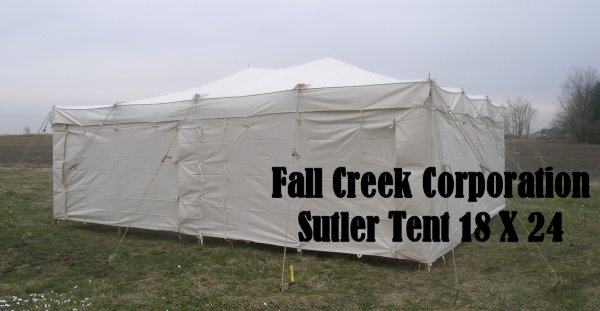 Our standard sutler tents are constructed with a flat panel top, rain flap along all sides, reinforced ring spur grommets all around, and reinforced upright holes.
All sides hang from studs at the top of each side pole, and have ties to secure to each side pole.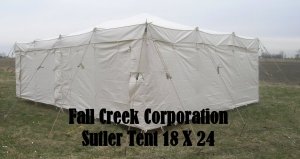 Standard Pole distance is 6' apart on all smaller tents up to 24 X 36. We can add more side poles if desired.
This design is time tested- Our own 42' X 30' Sutler Tent is a flat roof construction as pictured and described.
Sides also tie to the top rain flap to discourage wind problems.
Corners wrap around inside and outside for wind protection as well.
Extra grommet at each upright for a Tie Down Rope.
Options available for extra charge are "Hip" roof (Gusseted sides), Rope Hanging Sides (Similar to another tent makers desgin),
Triangular Rain Flaps to cover each side pole grommet, Star (or whatever you like) configured upright reinforcements in roof.
Chimney Holes and Incorporated Vents are also available.
In fact, since we make them, we can do just about anything reasonable with these tents!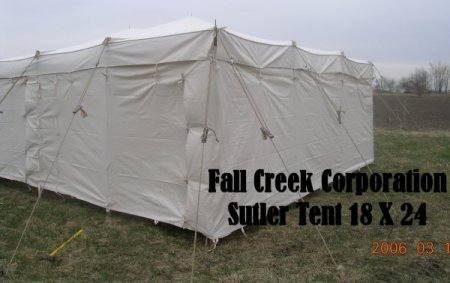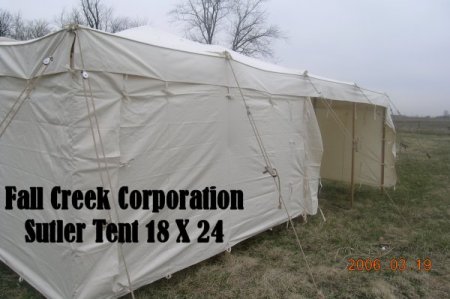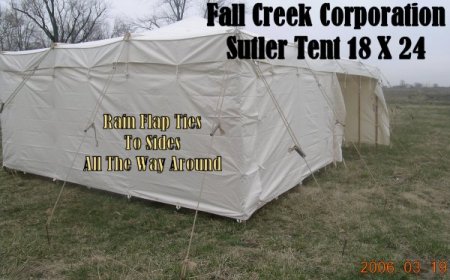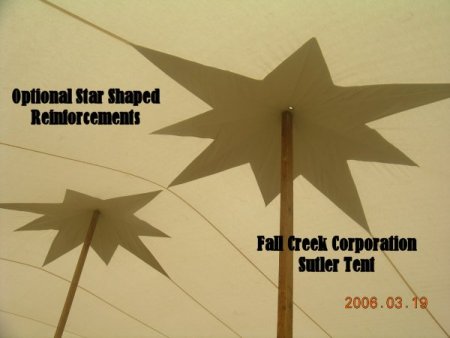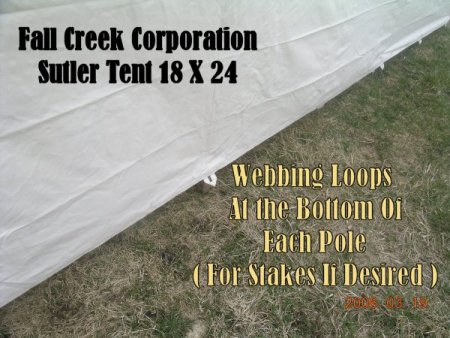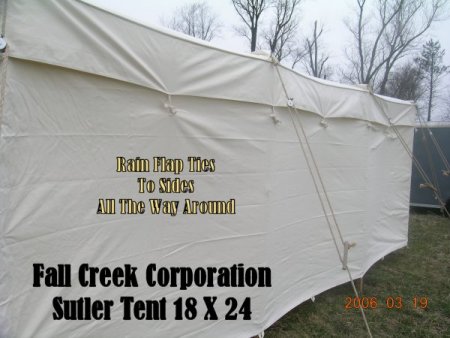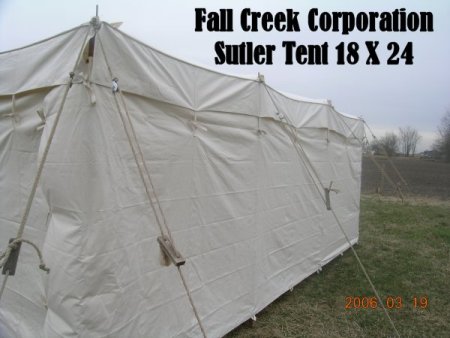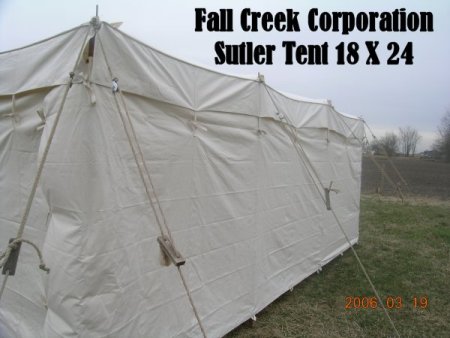 These pictures help illustrate the suggested method for setting up a
Fall Creek Sutler Tent, regardless of the dimensions.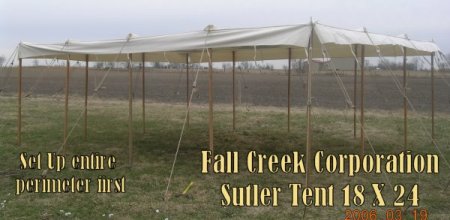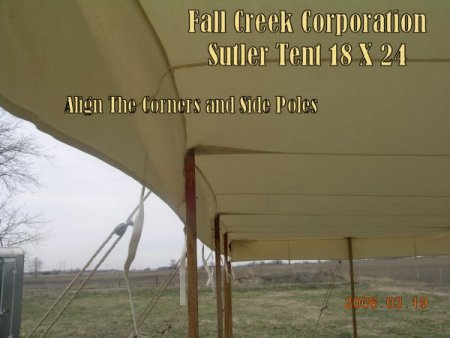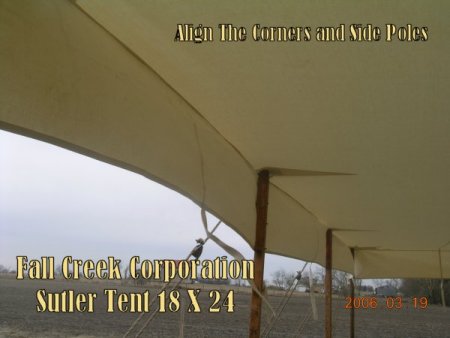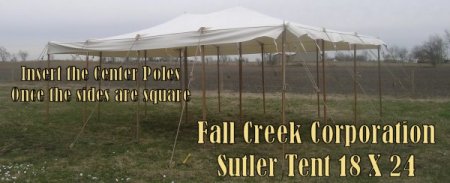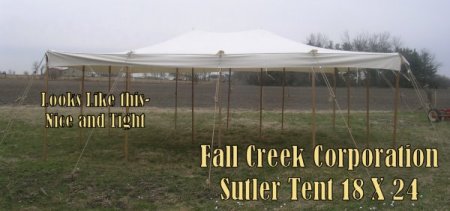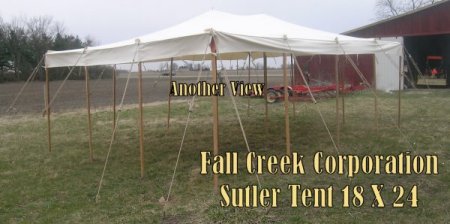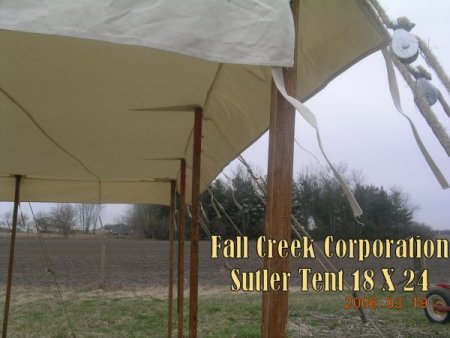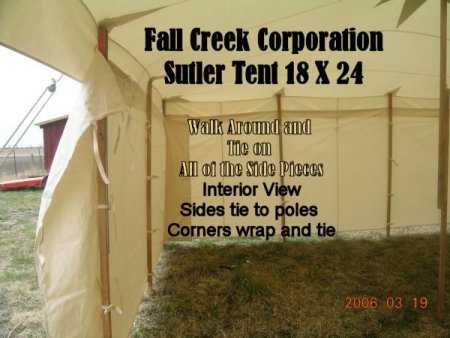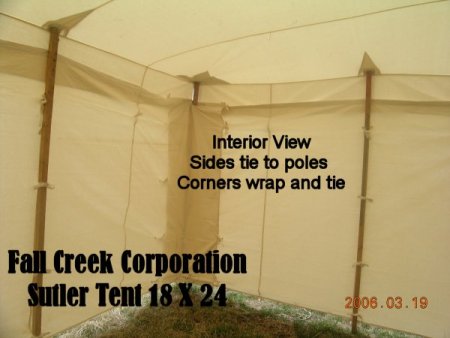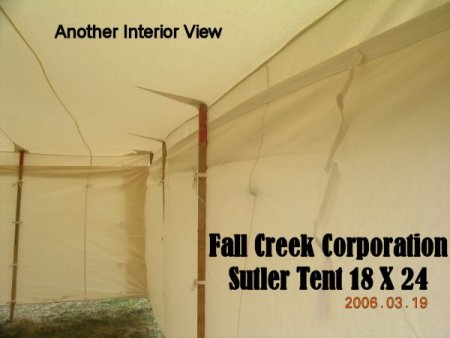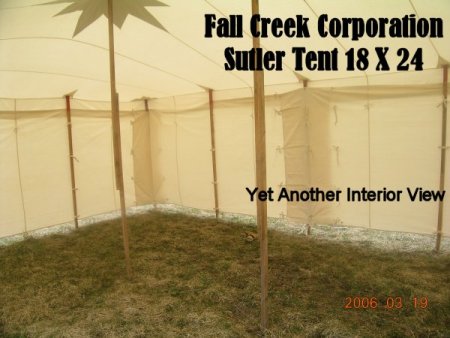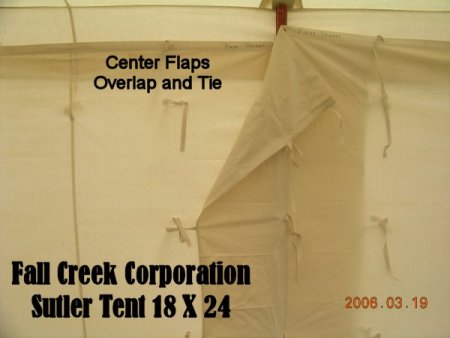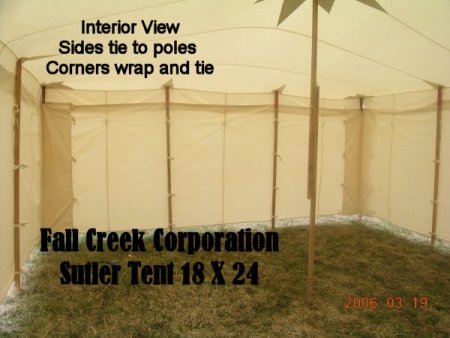 You can always call us with questions.
We make many of this style tent each year, and have a good working knowledge of how these tents can be constructed.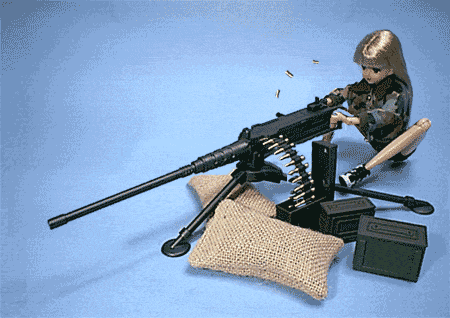 Barbie and her .50 Cal

Click Here
To return to our Tents Page
Fall Creek Suttlery



Sutler of Civil War Uniforms and Equipment
PO Box 92
Whitestown, In 46075
(765) 482-1861
(765) 482-1848 fax
FCSutler.com