Fall Creek Suttlery
P.O. Box 92
Whitestown, In 46075
(765) 482-1861
(765) 482-1848 fax
Civil War Swords and Sabers

Prices are volatile sometimes. Please call for current prices



Swords & Sabers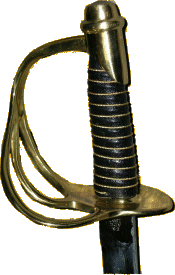 Cavalry Sabre, 1860.Our best quality - Ames markings. Inspector stamped and dated. Steel scabbard with rings, black leather grip with twisted brass wire wrap. Brass hilt and knuckle guard. Very close copy to the originals........................................$165.00
---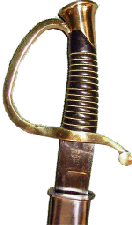 Artillery Sabre, 1840. Our best quality - Ames markings. Inspector stamped and dated. Steel scabbard, black leather grip with twisted brass wire wrap. Brass hilt and knuckle guard. Very close copy to the originals....................................$165.00
---


Above Cavalry Sabre, Economy model, no markings Not as good quality, but very decent for the price. Steel scabbard, leather wrapped grip with brass wire.
Brass hilt and knuckle guard.....................$85.00


Notes on our sabers- Our higher quality swords are all made by Windlass Industries with tempered carbon steel blades.
Please understand that the original cavalry and artillery sabers were designed to use as slashing weapons to break bones, not cutting weapons (not originally made with sharp edges). They were also not meant to be used as butcher knives i.e. cutting off body parts like in the movies.
In the modern reenactment world, the sabers are used for show with minimal contact. Any slashing or chopping against hard surfaces or the edge of other sabers could cause damage to the saber as well as the user. Our better quality swords and sabers are able to handle some abuse, however, our "economy" swords and sabers are just that - economical. They are made less substantial and cannot handle much rough treatment (which would also void any warranty from the suppliers). Please use care when reenacting with these sabers. We all want a safe and enjoyable hobby.

---



1840 Cavalry Saber - Wrist Breaker,
This is the earlier version of the 1860 Cavalry Saber. The blade has less of a curve, is 1 1/4" wide and has a wide flat to toward the grip. The nickname "Wrist Breaker" came from the fact that due to the straighter blade, it was easy to injure yourself when striking something. The later model 1860 Saber had more of a curved blade, which made it easier to "Glance" off of an object when striking it. We do not recommend striking anything with these sabers, as that could injure someone.
This saber comes with steel scabbard fitted with steel wrings to fasten to your sword belt. Brass knuckle guard and black leather grip wrapped with twisted brass wire, as copied fropm original sabers. These usually come marked Ames- Cabotville and dated in the 1840's. These are very nice reproductions.........................................$225.00


---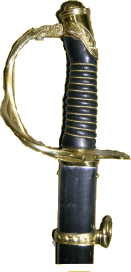 M1860 Cavalry Officers Saber, Similar to the Enlisted Mans' 1860 Cavalry Saber, this sword has a curved etched blade, with a single edge. The brass pommel has a Phrygian helmet pattern with an embossed pattern of leaves and berries on it's forward edge. The brass three branch guard has a floral scroll at the end of the knuckle-bow. Blade is engraved with the same design as the 1850 foot officers sword. The scabbard is polished steel with brass fittings. 41 inches overall, blade 35" by 1" wide at hilt. This is a fairly true copy of the original sword...........................$195.00


---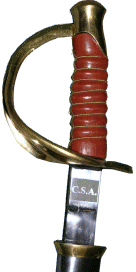 Confederate Cavalry Saber, Similar to the US Cavalry Saber above, with brown leather grip, and no markings. Blade is marked CSA and is approximately 35 1/2". Brass knuckle guard. Steel scabbard with brass fittings and rings. A nice CS Saber for your Cavalry impression or display...................................$165.00
---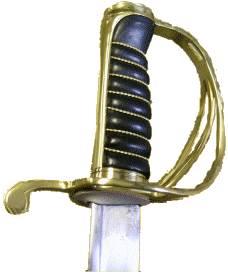 1833 US Dragoon Saber
Carried by the 1st and 2nd US Dragoon Regiments, these sabers saw conflict in the Second Seminole War, the South-West Indian Wars, and the Mexican War. It has a three branch brass guard. Blade length is 34", Overall length is 40". Blade is engraved like the originals. Our replica comes with a steel scabbard.............................$235.00


---



Artillery Short Sword, 1832 model. Gladiator style sword with a brass grip and double edged blade. Exact copy of the originals. Eagle cast into knob at the end of the grip. Black leather scabbard with brass throat and drag. Requires leather frog. (Zouave Style if not worn on sword belt)................$ 155.00
---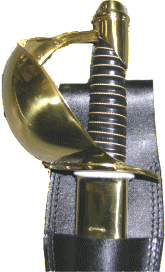 1860 US Naval Cutlass
Model 1861 Cutlass was adopted in May 1861 by the Bureau of Naval Ordinance, when a contract was given to Ames Mfg. Co. This pattern was used during the Civil War, Spanish-American War, and WWI. Some were still aboard ships during the early part of WWII. It has a Brass cup-hilt guard and pommel with a black leather wire wrapped grip.This cutlass is designed to be worn hanging from your regular belt. Our replica comes complete with a black leather scabbard and frog. Brass Knuckle Guard with a Brass Basket. Overall length 31 1/2"...............................................................$225.00


---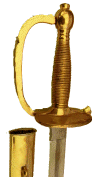 NCO or Musician Sword, with leather scabbard. Ames and inspector marked.
NCO has the "Clam Shell" hand guard. Musician Sword is a little shorter with no guard. Both feature a false wire wrapped grip and black leather scabbard with brass furinshings like the originals. These swords require our Leather Baldric (over the shoulder) for proper use. Priced as below.


Scabbard only is available for $85.00 ...............Specify whether NCO or Musician Sword.
Note- these scabbards are reproduction and will fit most higher quality reproduction NCO and Musician Swords. If you have an original sword, some adjustment may be needed to the length by moving the throat or drag.
This adjustment can be done by the customer, not Fall Creek Corp.

---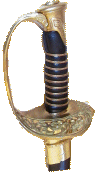 1850 Foot Officers Sword, Copy of the Original version, US etched blade, leather or metal scabbard (whichever is available) Brass knuckle guard with black leather grip and deluxe brass wire wrap. This is a very nice example of the 1850 Foot Officers Sword. There are quite a few cheaper versions available in the marketplace, but this one is beyond reproach. Scabbard Included....$235.00


---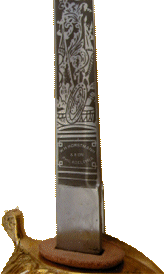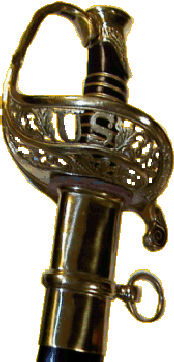 1850 Staff and Field Sword, Exactly as above, only with a more extensive knuckle guard with US cut out. Copy of the Original version, US etched blade, leather or metal scabbard (whichever is available) Brass knuckle guard with black leather grip and deluxe brass wire wrap. This is a very nice example of the 1850 Foot Officers Sword. There are quite a few cheaper versions on the market. This one is well above the quality level of those offered elsewhere. The 1850 Staff and Field sword was typically used by Colonels and above. Scabbard included...$235.00









---




Scabbard Only, Fits the above 1850 Foot Officer Sword or 1850 Staff and Field Sword. Leather or Blued steel body with brass throat middle ring and drag.
Call for the availability of your preference of leather or metal. Availability of material depends on what is available at the supplier.. ........................................................Scabbard Only- $95.00
---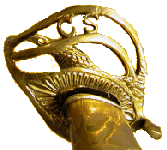 CS Joe Shelby Officers Sword, Similar to the officer swords above. Has CS in the brass knuckle guard. CSA Etchings on the blade. Blued steel scabbard with iron furnishings. Black leather wrapped grip with brass wire.
A very nice CSA officers sword at a low price...........................................$145.00

---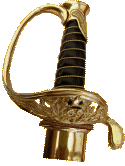 CS Boyle & Gamble Sword, CSA in wreath on the brass knuckle guard, CSA etched blade. Leather scabbard with black leather grip and brass wire wrap. A fine copy of this famous CS officers sword......$235.00
---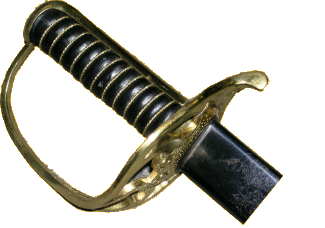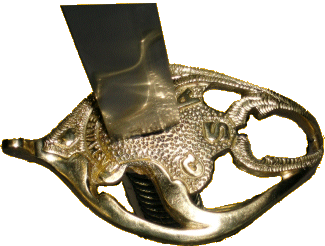 CS Nashville Plow Works, Marked "Nashville Plow Works" and "CSA" on brass knuckle guard. Uniquely styled sword, copy of the original. Black leather grip wrapped with twisted brass wire. Blade is plain on this one. Distinctive blued metal scabbard with brass hardware.........................................$235.00





---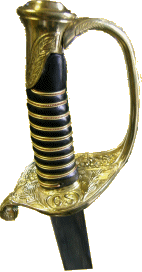 Memphis Novelty Works or Leach and Rigdon, Nice copy of the original. Brass knuckle guard with CS on the guard. Black leather grip with wire wrap. Blued steel scabbard with brass furnishings. The blades on these normally had no engraving. Originally made in Memphis, the company moved to Georgia in 1863 and this sword took on the name of the (Then) makers- Leach and Rigdon.
This is a very close copy of the original in our collection......................................................$235.00
---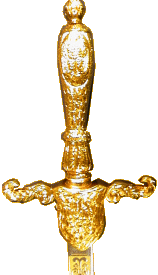 Medical Service Sword, Fine quality. Exact copy of the original made by Ames. Gold washed hilt and handle with MS cast into the center and an eagle cast into the head. Engraved blade (with gold wash), nickled metal scabbard. Beautiful reproduction and very appropriate for any Medical Officers impression...........Out of Stock




---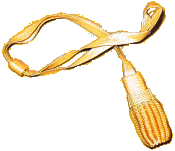 Gold Sword Knot, Fine quality. Exact copy of the original. A great and necessary compliment to any of the officers sword above. Gold woven braid with and large gold acorn at the end. 100% handmade from the finest materials.....$34.95

---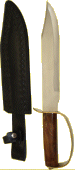 Bowie Knife, Called the D-Guard because of the shape of the brass knuckle guard. This was a very popular style for many Confederate Soldiers as seen in photographs. Rosewood Handle with a carbon steel blade and brass knuckle guard. Another very large knife, approximately 16" long. For any mid-civil war impression. Includes a non period leather sheath for protection. For reenactor use, we recommend having a leather sheath made to protect the blade....................................$34.95
---
Cavalry Saber Letter Opener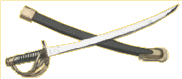 1860 Cavalry Saber Letter Opener or for use with your miniature soldier. Nice quality with plenty of detail. Marked "US 1860" at the hilt.
Measures 10' long. Brass colored grip with nickle plated blade. The scabbard is metal with brass toned ends and a leather like covering.
Nice gift idea........................................................$24.95

---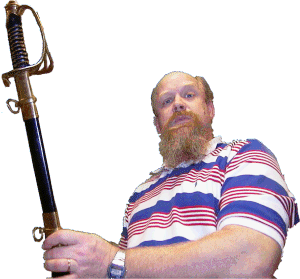 Click below to browse our Website:

&nbsp&nbsp

Leather Goods ........

Cartridge Rifles

-Henry

&nbsp

Shoes and Boots

CW Carbines- Sharps,etc

&nbsp&nbsp

Muskets and Rifles

&nbsp&nbsp

Embroidered Insignia

&nbsp&nbsp

Bayonets

&nbsp&nbsp

Brass Insignia

&nbsp&nbsp

Revolvers and Pistols

&nbsp&nbsp

Buttons

&nbsp &nbsp

Non Firing Weapons

&nbsp&nbsp

Buckles and Plates

&nbsp&nbsp

Firearms Accessories

&nbsp&nbsp

Tinware and Canteens

&nbsp

&nbsp

Haversack Stuffers

&nbsp&nbsp

Books - Manuals

&nbsp&nbsp

Clothing Patterns

&nbsp

&nbsp

Books - Reference

&nbsp

Kit Guns

&nbsp&nbsp

Toys for Kids

&nbsp&nbsp

Swords and Sabers

&nbsp&nbsp

Movie Credits

&nbsp&nbsp

Wanted

&nbsp&nbsp

Favorite Links

&nbsp

Shirts and Clothing

&nbsp&nbsp

Headwear

&nbsp

&nbsp

&nbsp&nbsp

Tents

&nbsp&nbsp

Email Us-Order Inquiries Only

Gift Certificates

&nbsp&nbsp

Home Page
All info and pictures Copyright 2023 Fall Creek Corporation
Nothing can be copied without permission.
765-482-1861
78