Civil War Union Army Uniforms
Civil War Uniforms and Clothing
US Army (the North)

For CS Army Uniforms and Clothing - Click Here

Fall Creek Suttlery
P.O. Box 92
Whitestown, In 46075
(765) 482-1861
(765) 482-1848 fax


The uniforms on this page are tailored primarily by the Quartermaster Shop from Port Huron, Mi. The Garments we sell are the highest quality available today. Careful attention is paid to every detail to ensure museum quality and authenticity as well as wearability. Please adhere to our ordering instructions so that we may deliver proper fitting garments the first time.
Please fill in the measurement chart completely and carefully
Measurement Chart - Click Here.
Don't guess! Give modern clothing sizes in the space provided. Usual shipping time on custom orders is 6 - 12 weeks. Common sizes and items off the rack can be shipped immediately. Please also note that larger or odd sizes could cost extra.

PLEASE NOTE - As stated above, Quartermaster Shop uniforms can take 6 - 12 weeks for delivery. If you are new to reenacting, or not a reenactor, this may be difficult to understand. All of our uniforms are hand made in the US. The Uniforms are made in a production environment by experienced tailors. As each order is received, it is put onto a schedule for production on a first come first served basis. The item is shipped as soon as it is completed. I am sorry to have to be so explicit, however once in a while we encounter a frustrated customer that believes that "made to order" items should ship within a day or so.
Buttons are included in the price of each garment. State buttons or special buttons may cost extra. Please refer to the "BUTTON NOTE" and "SIZE vs PRICE" notes at the bottom of this page. There is a 25% extra charge for extra quick delivery on custom orders.
Click for Button notes, Large Sizes, and Custom Ordering


---
US ARMY 1858-1865

---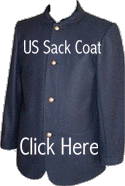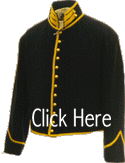 US Enlisted Sack Coats
............................................................................and Shell Jackets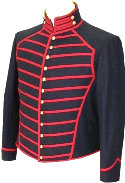 ---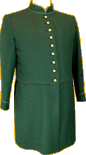 ---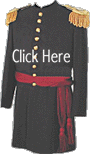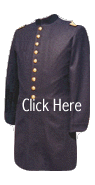 Junior Officer Frock Coats
.........................................................and Shell Jackets


---
---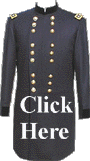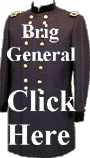 US General Frock Coats
.....................................and Shell Jackets


---
US GENERAL OFFICER'S FATIGUE BLOUSE
---
---
Greatcoats
Infantry and Mounted


---

US Military Vests

---
---
Button note: All of our coats and trousers come with buttons included. US - Eagle buttons, CS your choice of buttons specified. See our big catalog for more details. For shirts and accessories, please refer to our SHIRTS and ACCESSORIES page.
Buttons - Large Sizes- Custom Ordering
Button Note- All of our coats come complete with buttons. US coats come with appropriate eagle buttons. CS Coats come with your choice of the following-

Pewter "I" or Brass CSA buttons. Stamped brass "I", "A", or "C", and Pewter state buttons are $1.00 each when purchased with a coat. Stamped brass state buttons are also available, priced as listed on the button page.
All Oversize, Custom, and Special Orders MUST be paid in advance. No refund is allowed after the material is cut, Please refer to our ordering instructions for details, or give us a call.

Uniform Measurement Chart - Click Here
Feeling Adventuresome? We have Patterns and Fabric available for most Military Uniforms- Click Here
For CS Army Uniforms and Clothing- Click Here

Click below to browse our Website:

&nbsp&nbsp

Leather Goods ........

Cartridge Rifles

-Henry

&nbsp

Shoes and Boots

CW Carbines- Sharps,etc

&nbsp&nbsp

Muskets and Rifles

&nbsp&nbsp

Embroidered Insignia

&nbsp&nbsp

Bayonets

&nbsp&nbsp

Brass Insignia

&nbsp&nbsp

Revolvers and Pistols

&nbsp&nbsp

Buttons

&nbsp &nbsp

Non Firing Weapons

&nbsp&nbsp

Buckles and Plates

&nbsp&nbsp

Firearms Accessories

&nbsp&nbsp

Tinware and Canteens

&nbsp

&nbsp

Haversack Stuffers

&nbsp&nbsp

Books - Manuals

&nbsp&nbsp

Clothing Patterns

&nbsp

&nbsp

Books - Reference

&nbsp

Kit Guns

&nbsp&nbsp

Toys for Kids

&nbsp&nbsp

Swords and Sabers

&nbsp&nbsp

Movie Credits

&nbsp&nbsp

Wanted

&nbsp&nbsp

Favorite Links

&nbsp

Shirts and Clothing

&nbsp&nbsp

Headwear

&nbsp

&nbsp

&nbsp&nbsp

Tents

&nbsp&nbsp

Email Us-Order Inquiries Only

Gift Certificates

&nbsp&nbsp

Home Page
All info and pictures Copyright 2023 Fall Creek Corporation
Nothing can be copied without permission.
765-482-1861
140